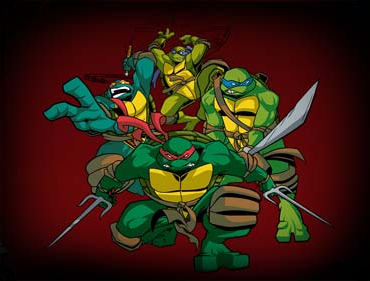 Why do I keep writing Turtles posts?
Okay, so I decided to start watching the 4Kids/2003
Teenage Mutant Ninja Turtles
series. I intend to watch it in full, even if the re-branded seasons get as bad as fans said they are. I'm disappointed with the Nick series, and I need to class up this joint. But for the purposes of fun, there will be a piece at the bottom of this post where I'll talk about whatever TMNT stuff I feel like bringing up at the moment.
I have watched the entire first season of the 2K3 series, and was very, very impressed. This is a show almost on the level of
Gargoyles
(almost), and just one of the great American action series. It's well-written, builds its world slowly, and I'm surprised at some of the things they got away with.
I'm not completely ignorant of the 2003 TMNT, but at the time it was airing, I had no interest in seeing more Turtles stuff. I had no nostalgic urges, and never knew anyone who recommended it to me as simply a god cartoon. I did watch
Turtles Forever
, though, and I enjoyed that.
Swimming in the anime-geek hatred of 4Kids at the exact time this series was airing might have also steered me away from it, even though I knew this was an original production, and that I shouldn't have let my issues with the production house give me a bad attitude towards their American content.
But I'm better now.
I am also clean of any urge to dislike any differences between versions of the Turtles. I say, if you start out with Fred Wolf Splinter as your favourite, a character who had his very birth species changed, then you have no right to complain about anything that doesn't impact the fundamental quality of the show.
The way the 4Kids series slowly develops reminds me of a novel, of revealing stuff piece by piece instead of throwing the cards all out on the table. Knowing the way some of these other people rewrote scripts for anime, I am surprised by what this show is getting away with. But this is only to its benefit: the reason I like darker and more serious stuff in kid's cartoons is because conflict makes for better stories, and kids, you know, shouldn't be shielded from that.
How much of this quality and this subversion of the 4Kids model is due to Peter Laird's involvement, and how much to the talent of the other writers involved, either the cartoon veterans, or the hidden talent of the 4Kids staff? I have no idea. But including the original creator is generally a good thing, setting up a consistent rhythm between the different media, and an understanding of what makes the material "work", and therefore Laird's involvement is an important factor.
(It's really fun to spot voice-actors, too. Hi there, Mike Sterniklaas, Ted Lewis, Dan Green, Eric Stuart, Marc Thomspon, Darren Dunstan....).
Unfortunately, I was spoiled for many of the important beats due to my years of Turtles research. That didn't made things boring to sit through, though, because I appreciated the execution. The return to battle Shredder at his building was especially great, even though the engineered antagonists were pretty ridiculous.
It's too early to tell if I'll like any of the other characters besides the ones I was already predisposed to, namely Splinter and Baxter Stockman. And of course, both men are better characters than they ever were before, along with everyone else.
(Though April still doesn't have much of a personality—at least she's more active and self-possessed, but it's still hard to describe
who
she is. I guess we can't expect miracles.)
I'm not saying I like 4Kids Baxter to save face, to cover my liberal guilt about finding white Baxter to be a hilarious candy-ass: I genuinely do like this guy. I like the combination of hubris and grotesquery we've got going on here, and that he remains arrogant even as his mutilations continue, which is an unconventional reaction for a minion.
In its own sadistic way, this notion is more fun than the norm, as Baxter'll keep setting himself up higher only to fall again, rather than continuing a monotonous pattern of submission. Shredder and Hun slowly removing Baxter's body parts is also a wonderfully creepy take on the whole "you have failed me" song and dance. I already know where his plotline goes, but it's interesting on rewatch.
(And yet, despite all the differences, there are parallels between 4Kids Baxter and Fred Wolf Baxter that I can't help but notice again.)
It's hard to get used to Darren Dunstan playing Splinter, not because he's different, but because Darren Dunstan's role as Pegasus has been branded onto my brain, and Splinter's voice sounds a little forced, too. I also think the bend in his snout looks odd, though I dig the Nicodemus eyebrows.
My interest in Splinter is more respectable, but he's unquestionably written better in other mediums than in Fred Wolf's version, including the Archie comics and the earlier live-action films. The 4Kids version is better for all the usual reasons: the fatherly aspects are emphasized more, creating a more rounded character, and due to coming from a more serious and well-crafted show, Splinter now has much more gravitas and presence, a sense of grandeur.
It's also true, though, that I'm not looking for something to "convert" me away from the Fred Wolf cartoon. I do think that it is objectively a bad cartoon, and not because it's not "serious" enough. There's an objective standard of quality that transcends the tone of a work, so that the Fred Wolf series is bad
as
a children's action-comedy series, with
The Real Ghostbusters
, during its pre-
Slimer!
era beating the series out for quality with a similar tone.
So, I have zero actual respect for the Fred Wolf cartoon, and not because it's supposed to be a humorous show… everything about the Turtles was done better in other mediums. But godammit, I still like watching it. Splinter's iconic status can't be topped by any kind of practical thinking, and realize that I like white partially Baxter
because
he's so pathetic and stupid. I wish I could ride the Irony Train through the whole series run instead of cracking as I did. I won't forget any of this just because I've seen a version that's actually good.
Actually, I think seeing the better version of The Turtles has strengthened my interest in the Fred Wolf cartoon, and all the related convictions, if you can believe it. It's because I know that I don't have to expect it to be anything much better, because there already
is
a better version about. I'm still critical of the Fred Wolf show, and there are still some things I would have changed, but I feel less guilty about enjoying it.
I don't pretend to have perfect tastes in entertainment. Having that's impossible unless you pretend or deny whenever you inevitably like something below your usual standards, and I prefer to just indulge. What I looked for, and found, was another cartoon to enjoy, and this time to respect, and not to forget about the other stuff.
Other TMNT Stuff:
I did watch the "Metalhead" and "Monkey Brains" episodes of the Nick Turtles cartoon, and…at this point I should have dropped the show. The show is still bland, not goofy enough or not serious enough to be exciting. Both episodes also pushed my buttons a little, with their back-to-back anti-intellectualism. Donatello shouldn't use technology to take the place of walking actively into battle; Donatello should not think so much or he'll get his ass kicked. Gah.
Maybe, somewhere, these could be valuable lesions to impart to kids. But kid's cartoons are already full of this self-congratulatory "Being dumb means you're fun/nice/good" crap that I can't take any more of it.
"Metalhead" was the first episode with the Kraang in it that I saw. I have no interest in the original Krang, but it's a letdown to see modern villains apparently being drones to knock down like bowling pins.
Donnie and his crush on April still creeps me out, though I'm not sure if it's the species gap or the fact that he seems
older
than her, even if he's actually not. Maybe the vast age difference between the VAs bothers me, too….
Since my last TMNT post, I also bought the season 1 and 2 DVDs of the Fred Wolf show. I told myself I wouldn't be willing to buy beyond the second season, because the percentage of likable episodes goes way down, but I'm starting to waffle, because I want to avoid piracy. Awkward, with that full set coming out.
Anyway, I had told myself not to bother with the "Red Sky" seasons, because they aired after I had stopped watching the series and didn't have that nostalgic cachet. That, and this more "serious" retooling of the series, apparently done to complete with Batman: TAS, sounded like a very stupid idea. But the season 1 disk had four Red Sky episodes as a bonus feature, so I thought I might as well get my money's worth.
It was exactly what I thought they'd be. It's just so obvious the retooling is a desperate grab for attention, mainly because they don't change anything substantial. Sure, they change the art style, tone down the slapstick, maybe add a dash more seriousness in atmosphere, but none of the major problems with the series are "fixed". For example, April still has no character, and still gets kidnapped and/or makes a fool of herself. Seen in the harsh light of adulthood, the end result is a little pathetic.
It's also a little painful to say, but not even the wonderful Tony Jay as Dregg, the alleged "cool new villain" can save this. Yes, The Shredder was a silly villain, but at this point in a series run, there's no changing the fact that the series had the villains it deserved.
The best thing would have been to start over with a new series, not shoehorn in a new villain, especially not who acts more sophisticated, but does the same shit as before. Sticking in a tougher, cooler new character is one of the weakest ways for an old series to pretend to be relevant.
Carter, that cool new human friend of the Turtles, is another example. At least he's an adult instead of a kid sidekick, and it's nice to bring some diversity to the cast, but he's not much of a character beyond his superpowers. It's also strange and off-putting that he's more like a Marvel-style "Mutant" who can transform from an altered humanoid form to normal, than an anthro animal who can't change back. Because he
can
change back at times, it's also harder to sympathize with Charter's transformation angst.
The final evidence of it all being a "desperate grab" is to have the Turtles start mutating into monstrous forms, with Leo being the one who gets it the most. It's almost as if they heard all the complaints about Leonardo being too boring, and decided, "Fuck it, we'll just turn him into a monster", instead of trying to do anything substantial.
(Not even Splinter was that entertaining at that point. Was it that he sometimes speaks in faux-Eastern wisdom even more? Or that he technically wasn't nostalgic anymore?)
So, that's that. I'm still very happy with the 4Kids series, and hope it keeps entertaining me. But some things you just won't forget about. And then sometimes, there are things that are just forgettable.