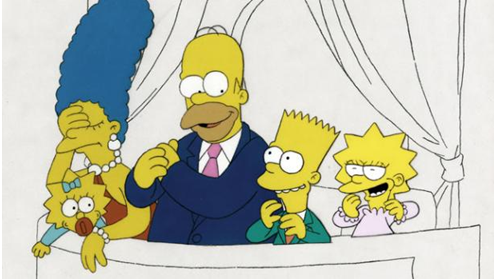 The Simpsons
is something that has been so integrated into American and Canadian culture that any discussion of it will be redundant. Everyone knows what this show is, everyone knows how long it's been around, and how it is so quotable. But my interest in
The Simpsons
has undergone a personal revival, and it makes the series easy for me to talk about, even if I'm not bringing in anything new.
While the better days of the series are behind it, the best seasons of
The Simpsons
are still what define the series in my head. I grew up with
The Simpsons
like everyone in North America did, but I've only grown to have a strong respect for it as an adult. This means that watching the series again was a whole new experience.
The Simpsons
is a series that functions on multiple levels, and despite the belief that it celebrates lowbrow comedy, each of the best episodes are packed with allusions and references, deliver jokes by the ton, and contain both earnest human feeling and point-blank satire. Usually nothing gets too callous or too sappy, and the best episodes get better as you age, able to see more and more of the show's different levels of humour.
The Simpsons
is also a great example of the way that you can take stereotypes and build something amazing out of them. The Simpson family are a deliberate throwback to the sitcoms of yesterday, and
can
certainly be distilled into a set of quick, stereotypical descriptions. The type of character each Simpson is, based on their age, gender, and occupation, does nothing to surprise the viewer.
But
the way the series tells its stories makes up for that. Much has been written about the way that (pre-jerkass) Homer is a far richer character than you might think, but that case can be made for all of them, including Maggie.
My personal favourite Simpsons are Lisa and Homer, again in their better days. Lisa I like because I can relate to being the smart outcast, but the fact that she's allowed to be wrong, and allowed to be childish, is what really sells her. Homer, well, we all dislike the fat idiot dad, but at least Homer is caring (but stupid), he's actually called out, and we can respect his passions as long as we forget these things are treated as strictly male indulgences.
For the many, many, great second and third-tier characters, I don't feel any emotional attachment to any of them, but the way that they make Springfield a populated world is great, and they sure are funny. Springfield is a great stand-in for Every-(North) America, a town with every popular institution found in almost every city, and most of its critiques don't truly feel dated. But it'd all be worthless if the characters weren't fun, didn't draw you in.
There are a lot of animated sitcoms out there, but it's unfair to treat it as a tired format when it produced something like
The Simpsons
in its glory days. It's a show that, if it doesn't have it all, sure has a hell of a lot of stuff.
My cut-off dates for "The Good Simpsons" are season 1-9, though I haven't watched season ten in a while; while season one is rough, I still enjoy it. Many of
The Simpsons
' strengths are beginning to show, and it's fun to watch them take shape. The episodes are also genuinely entertaining: "Moaning Lisa" is one of my all-time favourites, for the way it deals with ennui in a delicate, respectful way.
(The first season is also not particularly focused on Bart—Bart's a great character, but the idea that season one was "The Bart Show" comes from mistaking the kid's breakout popularity with prominence on the show itself.)
Furthermore, while the first season animation style is more rubbery than the series needs, it reminds me of certain Canadian animated shorts, like the work of Richard Condie, and that can only be a good thing. In fact, the Scrabble scene in Condie's famous "The Big Snit" was an influence on the Scrabble scene in "Bart the Genius".
When it comes to episodes past these seasons, no, I haven't watched every one and made notes to prove why they don't work. I just find the episodes that I
have
seen to be harsh and garish. They can still make observations about human culture or have a good line or so, but there's no heart or teeth to the show anymore. It just doesn't look or sound or feel "right", and is often struggling to be relevant the same way long-running newspaper comics do.
There's just this fundamental drop in quality that can't be overlooked, can't be explained away by nostalgia or by unreasonably high standards. It's nothing excessive to believe a series has lost its touch. I don't watch those other seasons of
The Simpsons
and keep my opinion on them hidden, but I agree with anybody who believes
The Simpsons
ain't as good as it was.
But once upon a time it was a great show, and deserves to be celebrated as that. To be looked back on, and seen again, and again. It might be hard to see
The Simpsons
again with fresh eyes, but I encourage everybody to do it.